ExcelTelecom is a leading telecommunications solution provider that offers businesses the most innovative and reliable services. Our primary cloud service, exCloud, has been designed and engineered to provide a fantastic communication experience. This results in delivering an even better customer experience for businesses of all sizes. 
What is ExcelTelecom exCloud?
ExCloud is our flagship product. It's a cloud-based telephone service that upgrades a business's traditional phone system by enabling advanced communication features, like intelligent call routing and integrated messaging. Unlike its traditional phone counterpart, exCloud is more cost-effective and easier to deploy and maintain. This since there is no additional hardware or software to buy. 
How does exCloud improve the customer experience?
Seamless Communication
ExcelTelcom's exCloud solution enables businesses to deploy a flexible and scalable platform that allows them to keep in contact and stay engaged with their customers, regardless of location. Access exCloud anywhere there's an Internet connection and have all your customer's information at your fingertips. Literally. With the exCloud softphone app, you can access your phone system with your mobile device and have everything available at your fingertips. You can provide quick service no matter where you go. And exCloud has an intelligent call-routing system that ensures customers are connected to the right person or department. In fact, the full-featured softphone lets you access your customer's data from any computer and even take calls.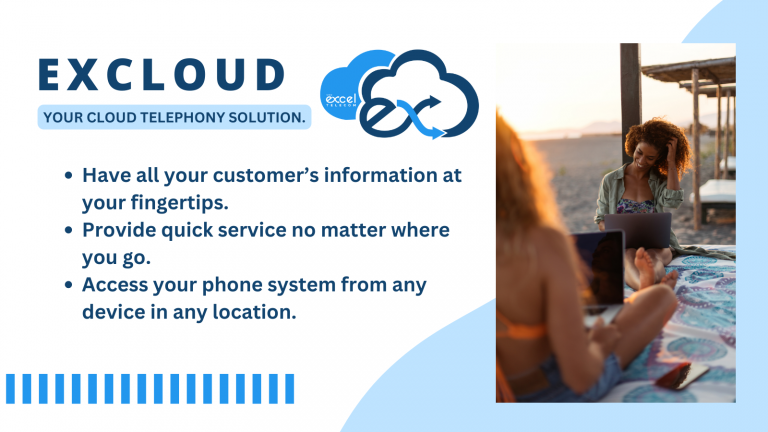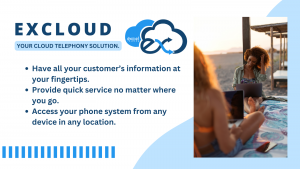 Better Collaboration
Collaboration is a critical component of providing an excellent customer experience. ExCloud's unified messaging integrates voice, video conferencing, and messaging into one platform. If a customer calls with an issue or question, the collaboration tools allow employees to quickly connect with a video call and share customer notes and files. The result is quick problem-solving and resolution of customer questions and issues. Promptly resolve customer questions in minutes rather than hours (or even days). 
Greater Flexibility
One of the best features of exCloud is its scalability. How does this benefit the customer? Businesses can scale their communication (and user count) up or down depending on what they need. If a company is experiencing an increase in calls, or even live chats, they can add users as needed to accommodate the increased volume. Businesses can even set up an IVR system enabling self-serve options. If the data shows that automation can resolve those calls. These added communication options reduce customer wait times and help improve their overall experience. 
Advanced Data
Not only does exCloud improve the customer experience with its features, but the data you can extract from calls will enable you to make data-driven decisions to improve customer service. You can monitor call performance and volume, and with call recording, you can identify areas of improvement or areas that may need additional staffing. Call recordings also help improve customer service scripts.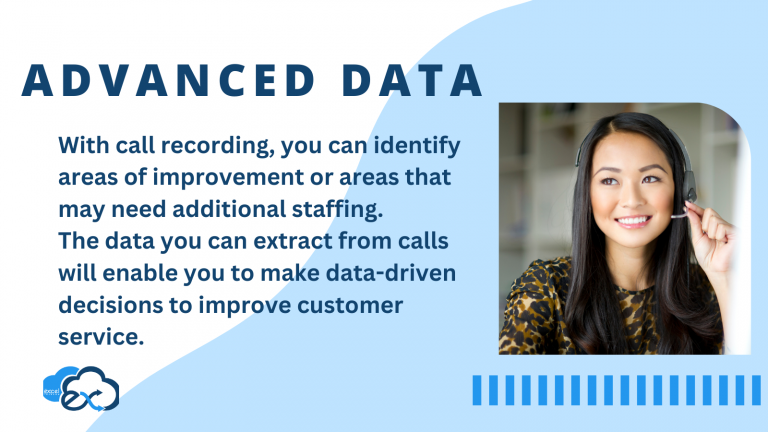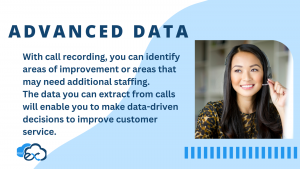 Overall, It's a Cost-Effective Solution
Because exCloud offers businesses a cost-effective solution to their communication needs, you can save money on hardware and software, so there's no need to pass those costs down to your customers. And since you know the pricing and what you're paying, there's no need to worry about hidden fees or price hikes.   
ExcelTelcom's exCloud Improves the Customer Experience
The goal of any business is to provide top-notch customer service. A traditional phone system doesn't have the features needed to adapt to customers' changing needs and demands. Your customers expect a quick response to an inquiry and an even faster resolution.  
ExCloud's platform future-proofs your business and has the features to keep your customers happy, engaged, and delighted, which results in customer loyalty and lots of return business. If you're looking for a cost-effective, secure cloud communication platform, contact the experts at ExcelTelecom, and let's get the conversation started on how exCloud will improve your customer's experience.