In recent years, how we work has undergone a significant transformation, with more and more people working remotely from anywhere (with internet connection) in the world. This shift has led to a growing dependence on mobile devices such as smartphones and tablets as the go-to method for staying connected with colleagues and clients.   
This is why having a mobile-first phone system is a must-have for any business – large or small – whether they have remote or hybrid workers. But what exactly is a mobile-first phone system? What benefits can it provide? That's where we come in! In this blog, we'll explore the concept of a mobile-first system, its value to your business, and how to find the perfect system for your needs. 
First Thing First – What is a Mobile-First Phone System?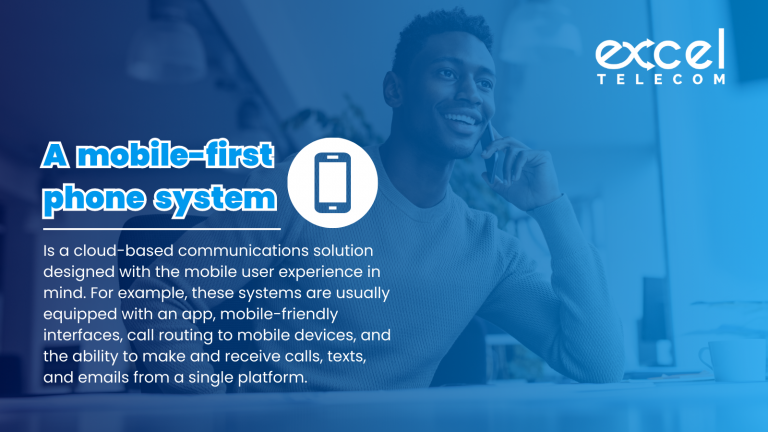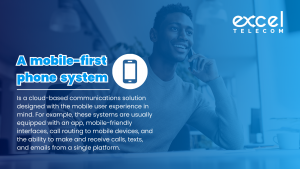 Unlike traditional phone systems, which require hardware installations and rely on physical phone lines, mobile-first systems operate using the Internet. This makes them more accessible and scalable than traditional phones, especially for small-to-medium businesses. 
Why Your Business Has to Have a Mobile-First Phone System 
All businesses can benefit from mobile-first systems. Not only do they support remote and hybrid work models, but they also solve some common problems that plague companies every day! Here are just a few examples:  
Missed calls.

Traditional phone systems tie employees to their desks, which can result in missed calls when they have to step away. With a mobile-first phone system, employees can answer calls on the go, ensuring that every call is answered or directed to the appropriate person or department.  

Frustrated customers.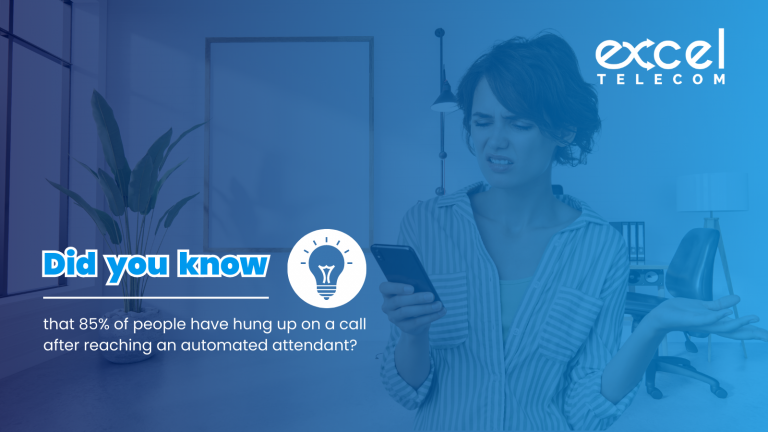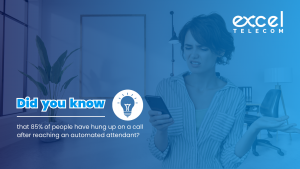 It's no surprise – we've all been stuck in "phone tree purgatory" at some point. But with a mobile-first system, you can keep your customers happy and avoid missed opportunities. How? By making sure that a real person answers every call promptly. After all, it's what most of your customers are clamoring for.  
Limited expansion.

Traditional phone systems require physical infrastructure, making it difficult to make changes or upgrades quickly. With a mobile-first communication solution, you can easily add or remove users, change call routing, and more, all through a user-friendly interface.  

Inefficient collaboration.

With a traditional phone system, collaboration can be ineffective and frustrating. But with a mobile-first communication solution, you can have one-click communication – from sending a quick text or hopping on a brief video call. This makes collaboration a breeze, allowing you (and your employees) to get more done in less time.  

High communication costs.

Traditional phone systems often come with high upfront costs and ongoing maintenance and repair fees. With a mobile-first system, you can avoid these costs and pay only for the features they need when they need them.  

Limited features.

Traditional phone systems often lack the features you need, such as video conferencing and SMS messaging. Mobile-first systems offer all these features (plus a whole lot more) on one user-friendly platform accessible from any internet-connected device.  

Little-to-no capacity for integration.

Traditional phone systems are often isolated from other business systems, making managing and tracking calls, voicemails, and messages difficult. A mobile-first system can integrate with other business applications, making tracking customer interactions easier and keeping your teams on the same page.  
And the list goes on! It's no wonder more and more businesses are turning to mobile-first phone systems instead of their more-traditional counterparts.  


How to Choose the Right Mobile-First Phone System for Your Business 
Now that you've heard what a mobile-first system can do for you, it's time to start researching. When choosing a mobile-first communication offering, you must consider many factors. But here are some of the most important, regardless of your industry: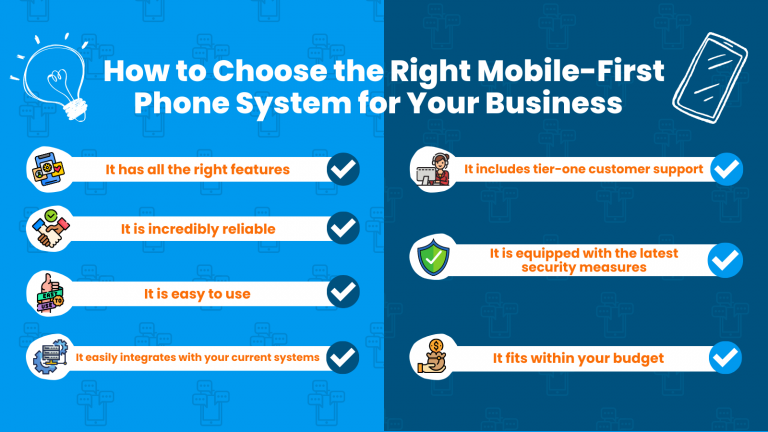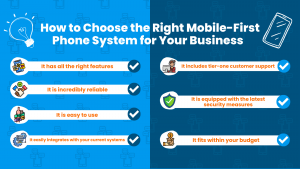 It has all the right features.

Make a list of all the features you need and be sure the system you choose has them all. Don't settle for less than what you deserve! 

 
It is incredibly reliable.

Look for a system that has a high uptime. A system plagued with dropped calls and garbled audio will negatively impact your business. 

 

It is easy to use.

Choose a system that is easy to use and manage

. A complex system may require additional training and support, which can be costly. 

 

It easily integrates with your current systems.

A system that pairs seamlessly with your existing platforms will reduce the time and effort required to manage your communications. 

 

It includes tier-one customer support.

Be sure your system provider offers you

quick connections with their support teams and 24/7 accessibility.

 

 

It is equipped with the latest security measures.

Check (and double-check) the system's security features to ensure your calls and messages are protected. 

 
It fits within your budget.

Finally, consider the cost of the system. Prioritize systems that offer competitive pricing and have no hidden fees.

 
ExcelTelecom:
Unleash Your Full Communication Potential with

a Mobile-First Phone System

 
If you're ready to upgrade your communication to a mobile-first phone system, look no further than ExcelTelecom! Our feature-rich platform enables your team to stay connected and productive on the go while simplifying operations and improving communication quality. Contact us today to schedule a demo and take the first step toward unlocking your business's full potential!